Our Christmas fundraiser, Season of Hope, is here! We are partnering with Mountain Ridge High School's fundraiser, Season of Scarlet. This year the money we raise will primarily benefit the group Hearts Knit Together, whose mission is "to show love and support for those seeking comfort and refuge in our local communities from violence and conflict." We will also make a donation to the Jordan Education Foundation.
We will hold a class competition among TA classes to see who can collect the most
money. Prizes will be given to the winning classes. Our goal is to raise at least $8,000.
Fundraising Activities:

Donuts and Hot Chocolate
Donuts will be sold every Tuesday and Thursday before school and hot
chocolate will be sold Friday before school.
Pet Rocks
For $5, students can make a pet rock. This activity will happen after school on
December 15. Students will need to sign up in the office if they are planning on
attending. At the activity, students will decorate and train their pet rock. Pet rocks
receive perks like a Front of the Lunch Line Passes.  
Student v Teacher Volleyball
During TA on December 19, 20, and 21, a team of students can play volleyball
against a team of teachers. Student teams need at least 6 players and need to
make a $30 donation to Season of Hope in order to play one match. More
complete rules, the team sign-up form, and a donation envelope can be found
in the office. 
Wanted Posters for Sale, $10.
Remember the Wanted Posters made by the NJHS for the food drive? Those
posters are now for sale in Mr. Noyes's room for $10 a piece. They'll also be sold
before school when the SBOs sell donuts or hot chocolate.
Thank You--Season of Hope Donations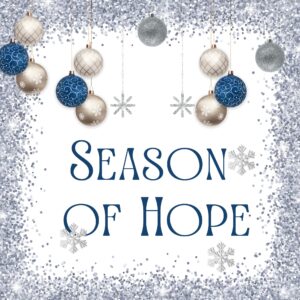 Thank you for the donations in our fundraiser, Season of Hope. We raised over $9000, which will help Hearts Knit Together and the Jordan Education Foundation. Well done, White Tigers!